The photo was already pretty wrong. Whoever made the
animated gif
made it wronger. But taking the time to draw a lecherously salivating Donald with his pedo-vein throbbing, while the little girl sweats and moans as the duck's dripping ding-dong demolishes her dainty dick-dumpster, is an intentional trip to the bad place. Whoever made this: I salute you, Internet Warrior.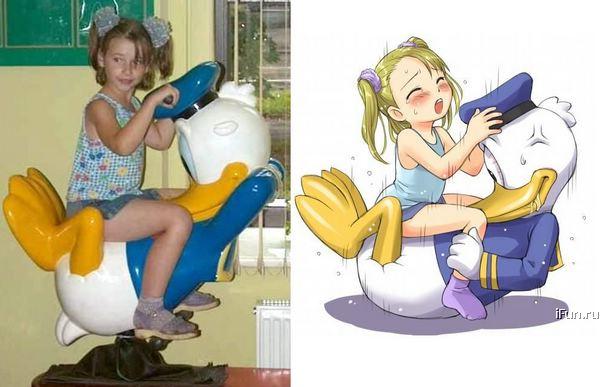 It happens to everyone eventually on the internet--you happily click a link someone has IM'd you, or a random Google search sends you down a virtual back alley where nameless horrors dwell. That one-click-too-far sends you from Wrongtown, straight to the bad place, and short of
Brain Bleach
or the much coveted
Unsee key
, there is no turning back. You groan, shed a tear for your lost innocence, then send the link to someone else, and enjoy a hearty laugh as you wipe your ass with the last shred of their faith in humanity.
Next time you run across something--an image, a video, even a chatlog--that transcends "grody" and takes it straight to the Bad Place, think of this thread as you're spreading it around for others to enjoy, and give us a little taste of that
hot, salty internet action
.