---
Since Borky's been gone, we have had no trivia bot in IRC. I finally got off my ass and h4x0r3'd an otherwise mildly gay trivia bot (again), gave it a list of about 9999 questions and set the fucker loose.

So, if you're bored as all fuck and chock full of random knowledge, feel free to stop by and trivia your little ass off. The bot can be found at:
irc.fdfnet.net
#triv0r

Notes:
For those unfamiliar with IRC, I recommend KVirc, jIRCii, Chatzilla or X-Chat Aqua (for macs).

Extra note #2: There is also a browser based client called Mibbit that can be used in lieu of installing a full client.

Set the settings thusly: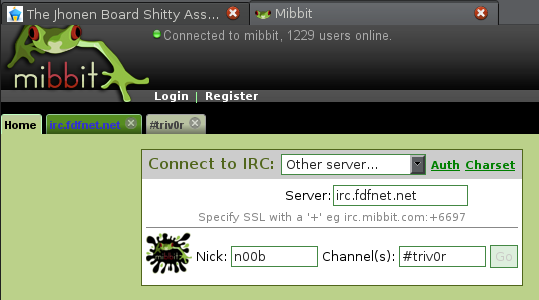 COMMANDS:
Start the game: !trivia n
Stop the game: !stop
Get a hint: !hint
Skip a question: !skip
Hall of Fame: !hof
List other with: /msg trivcho halp


If the bot isn't on for whatever reason, hassle me in #spite.