Soooo,
Dumbledore's a big gaymo
. A lot of the stuff in the last book makes more sense.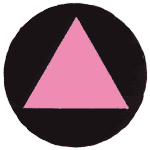 Gay Pride symbol.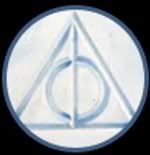 Deathly Hallows symbol (the wand/stone could be a cock and balls).
Also, he gave the giants an absolutely FAAAABulous unextinguishable "flame" as a gift, which only some wizards could produce. He refused to be Minister of Magic, probably because he'd seen too many senators get into big gay scandals. Hell, even his funeral was fruity:
"Hagrid was walking slowly up the aisle between the chairs. He was crying quite silently, his face gleaming with tears, and in his arms, wrapped in purple velvet spangled with golden stars, was what Harry knew to be Dumbledore's body."
And when Voldemort grabbed onto his wand:
"The spiderlike hand swooped and pulled the wand from Dumbledore